In January 1972 Ella Fitzgerald had a Sunday night gig with the Cincinnati Pops Orchestra. There were guitar parts on all of her songs, and a few songs that featured guitar intros and solos. I don't know why, but Erich Kunzel liked my guitar playing. I had started playing electric guitar with the orchestra in 1971 when they performed a medley of songs from Jesus Christ Superstar. After that he brought me in on anything that needed guitar. He wrote an arrangement of Barry White's Love's Theme and an arrangement of the theme from Shaft. Lots of wah wah pedal on both of those.
The Ella book was nothing like that, but I got the gig anyway. She brought her trio – Tommy Flanagan on piano, Keter Betts on bass and Ed Thigpen on drums. All legit jazz legends.
So for rehearsal they set up downstage where the cellos would normally be. And I was further back in front of the trombones. So when Tommy saw that, he asked Erich to move me up closer to them. When the dust settled here's this pasty white 20 year old sitting next to these jazz legends. And I'm playing charts that were played and recorded by guys like Herb Ellis and Joe Pass.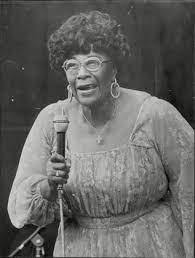 Ella wasn't there for the 3pm rehearsal. She was busy singing the national anthem at the Super Bowl in New Orleans. Then she hopped on a private jet and got to Cincinnati in time for the 8pm downbeat.
She was nearly blind at that point in her life. But she sang her ass off.
I wish I had pictures of any of this. Nobody took pictures at the rehearsal – Ella wasn't there and it was a big deal for me to be where I was but not for the other 100 people. Somebody may have taken pictures during the gig but I was too busy trying not to screw up to notice.
I played my '64 SG through my Fender Twin Reverb amp. I should have played an L5 or a Byrdland through a Polytone but I didn't have gear like that in those days.